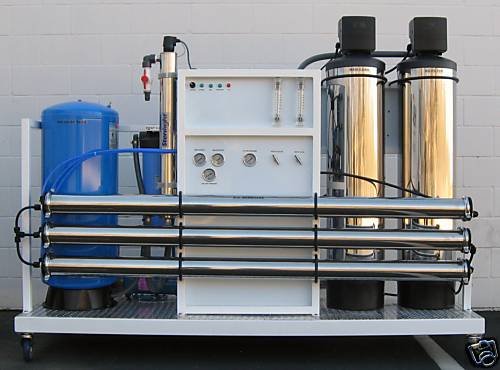 The Diamond Skid is a superior quality, reliable, complete reverse osmosis drinking water purification system and water delivery system, for use in commercial applications. It contains everything needed to purify and deliver water to the filling source, making it more than just a reverse osmosis filtration system. This full service water purification system is currently used throughout the domestic and international marketplace, answering the call for pure, quality, great tasting drinking water.
The Diamond Skid is used in applications such as water stores, bottling plants, water pouch plants, water purification plants, beverage production, pharmaceuticals, and various other applications calling for pure RO water.
This TFC membrane reverse osmosis drinking water purification system designed to consistently, efficiently, and reliably produce pure RO water under 10ppm for consumption. This water purification system can also be configured to produce purified alkaline water.
The Diamond Skid is available in multiple models to suit different production levels ranging from 1,500 – 12,000 gallons per day.  This water purification system can be easily modified for higher production levels at a later date and easily adaptable for various uses.
The Diamond Skid reverse osmosis system features a unique design allowing it to be extremely reliable with low maintenance costs. The system is comprised of basic electrical components that are readily accessible worldwide, unlike many other systems made of proprietary parts and microprocessors that are prone to failure.
The Diamond Skid reverse osmosis water purification system is built upon order allowing our technicians to customize the system to meet your needs in the most efficient, affordable, and reliable design. Also the system can be tailored to fit practically any application calling for high quality, pure water.
The Diamond Skid water purification system is manufactured and assembled in the USA with NSF approved components. The Diamond Skid is made with a locking wheel frame allowing it to be easily moved and repositioned during moving, maintenance, cleaning, etc.
The system comes with a 1year warranty on parts from manufacturer defect and continuous phone and email technical support. The Diamond Skid is very user friendly, easily installed, and comes with a complete detailed operation guide including user instructions, maintenance, and installation procedures.
The Diamond Skid Reverse Osmosis Water Purification System Process

STEP 1 AG Pre-Filtration—removes particulate matter down to 20 microns.
STEP 2/3 Carbon Filtration—an activated carbon filter that removes chlorine, chloramines, solvents, lead, insecticides, gasses, and other harmful contaminants. Works as a water softener without the use of salt by drawing hardness particles together and crystallizing them. Includes an automatic backwashing system.
STEP 4 5 Micron Pre-Filter—removes particles, sediment, and algae.
STEP 5 R.O. Pump—high pressure, stainless steel pump to boost water pressure to 160 lbs. formaximum membrane efficiency.
STEP 6 Reverse Osmosis Membrane—water is forced through a semi-permeable, .0002 micron membrane,allowing only pure water molecules to pass.
STEP 7 Storage—water is stored in FDA approved tanks.
STEP 8 Repressurized System— a 20 G.P.M. pressure pump assures constant water supply from storage tanks to post carbon filter, ultra-violet sterilizer, and faucets.
STEP 9 Pressure Tank—33-gallon pressure tank assures a constant flow of water to the filler and prolongs pump life.
STEP 10 Post-Carbon Filtration—water travels through a 4.5"x20" big blue Post Carbon filter, polishing it for exceptionally smooth taste.
STEP 11 Ultraviolet Sterilizer— 25 G.P.M. stainless steel sterilizer eliminates up to 99.9% of all bacteria.
STEP 12-optional—ozone may be added to water storage tanks to prevent future bacterial growth.

Features

Powder coated steel frame—Aluminum diamond plate base
Pre-wired electrical panel—Circuit breaker
Automatic flush
LIGHTS—Power on; system running; low pressure with auto cut-off
Stainless Steel RO Booster Pump
Dual level R.O. controls
Auto-backwash—On pre and post treatment—stainless steel jackets
Pre and post filter gauges
Waste and recycle valves
Product and waste flow meters
Pressure pump—20 G.P.M.
Ultraviolet sterilization light—25 G.P.M.
All components and materials are either NSF/FDA/UL/ETL approved
Stainless steel membrane housings with TFC membranes

Optional Equipment

Ozone generator
Feed pump
Panel Mounted TDS meter
Delivery water meter

Specifications

Feed water:

Temperature: 85°
Pressure: 40-80 psi
Operating pressure: 160 psi
Total Dissolved Solids (TDS): 2000 ppm

Tolerance:

Iron: 0.5 ppm
Silica: 25 ppm@50%
Recovery pH range: 3–11
Water recovery—up to 60%
Salt rejection—90-98%+

| | | | | |
| --- | --- | --- | --- | --- |
| Model | Gallons/Liters per day | Dimensions (Inches) | Weight (Lbs.) | MSRP* |
| DS-1 | 1,500/5,625 | 99L x 30W x 74H | 675 | Please Call For Pricing |
| DS-2 | 3,000/11,250 | 99L x 30W x 74H | 700 | Please Call For Pricing |
| DS-3 | 4,500/16,875 | 99L x 30W x 74H | 725 | Please Call For Pricing |
| DS-4 | 6,000/22,500 | 99L x 30W x 74H | 750 | Please Call For Pricing |
| DS-5 | 7,500/28,125 | 99L x 30W x 74H | 775 | Please Call For Pricing |
| DS-6 | 9,000/36,000 | 99L x 30W x 74H | 800 | Please Call For Pricing |

*Note: Prices are Manufacturer Suggested Retail Prices. Actual sales prices are lower than the MSRP and discounts are given on various equipment packages, so please submit a quote request form for actual pricing.  System flow rates are calculated based on 77 degree Fahrenheit incoming water temperature.
Click For The Diamond Skid Flyer
Click Here For Water Test Contaminants &
Solutions
Please call before ordering with any and all questions regarding the equipment, uses, specifications, installation, or any other questions. We have a very friendly and helpful customer service department that can be reached during normal business hours; Monday-Friday 9am-5pm PST.
Also, for best results it is highly recommended to obtain a water analysis test in order to find which contaminants are present in the water supply. Feel free to reference our Water Problems Page or call our Customer Service Personnel for a better understanding of the different contaminants and their effects/consequences.
Click here to submit your review.
---
---
Oct 04, 2012
by
Gordon Bradshaw
"We purchased two customized DS-4 diamond skid units from WB USA in May 2010 . Through out the entire process, planning, shipping and installation the support provided has been very good. We have been operational for approximately twenty months as of this writing and the units have functioned as expected. We have had to replace a digital counter on the UV Sterilizer due to a local Power surge as well as some cracked fittings. All spare parts were readily available and shipped out quickly so we had no down time.

I would recommend anyone considering the Water Business to contact WB USA . They are readily accessible and will work patiently with you to get you up and running!"

Gordon Bradshaw

Very satisfied customer

Kingston, Jamaica
business 0.3
---