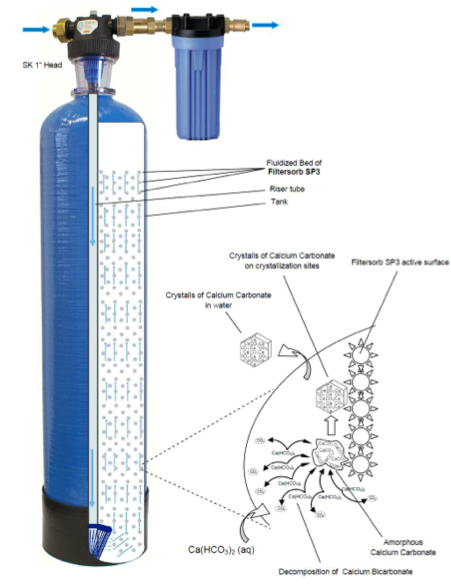 WB USA offers the Green Water Softener System which uses a much more advanced, environmentally friendly, maintenance free, non-toxic, and efficient filtration process than traditional water softeners to create clean drinkable soft water. Therefore all of your water can be filtered to cleanliness with one filter. Traditional water softeners use salt or chemical based medias to create soft water that is environmentally harmful, toxic, unhealthy to drink, unsafe for irrigation, use electricity, becoming banned in many areas, and require frequent and costly maintenance. With WB USA's Green Water Softener System you are not subject to the high maintenance costs and can use the soft water for practically any application without the negative consequences of traditional water softeners. The Green Water Softener System provides the benefits of water softeners and whole house or whole building filtration systems all in one simple, efficient, maintenance free system. This system can fit a variety of commercial and residential uses and applications, for either a single building or use for home.
The Green Water Softening System Includes:
• GWSP3 Up-flow Media Filter
• Activated Carbon Up-flow Media Filter
• 20" 20-micron Filter.
*Also these filters can be broken up for sale as only the Green Water Softener or a whole house filtration system.
The Green Water Softener System offers all the benefits of traditional water softeners such as increased appliance life, increase appliance efficiency, increased hot water heating efficiency, increased detergent efficiency (use less detergents), and scale prevention. In addition to these benefits the Green Water Softener System also allows for the benefits stated below.
Benefits of the Green Water Softener System:
• Chemical Free Scale Prevention which allows for cost savings and eliminates negative environmental impacts. Truly a "green" process.
• Bacterial Growth Prevention – Up-flow media filters prevent bacterial growth unlike traditional water softeners and do not need to backwash resulting in no waste water.
• Corrosion Control – The GWSP3 media allows the water to retain high pH levels that are non-acidic to help prevent corrosion. Acidic water (low pH) and/or salt causes corrosion in many types of plumbing pipes.
• Virtually Maintenance Free – The media does not require frequent changes unlike traditional water softeners. This means there are no salt bags or other chemicals to buy, transport and store for maintenance.
• Highly Efficient – No Electricity or waste water – These filters are completely self-contained up-flow filters so they do not need to backwash (eliminates waste water) or use electricity.
• Healthier Drinking Water – The advanced media breaks down hard water particles into smaller soft water particles without removing beneficial minerals for healthier drinking water. Unlike traditional water softeners the water is completely safe to drink.
• Improves the efficiency of water-using appliances – including water heaters, dishwashers, cooling towers, ice machines,
• Simple installation – no electrical and drain hookup needed.
• Safe for landscaping, agriculture, and lawn watering – No need to costly bypass plumbing.
• Extremely Compatible – Compatible with all on-site and community wastewater treatment systems.
• Not subject Restrictions or Bans – Water softeners have restrictions and/or "bans" that have been implemented in many areas. This system is approved for use anywhere because it does not have negative environmental impacts.
• Extremely versatile – Because the GWSS does not have negative health or environmental impacts it can be used in a wide variety of applications ranging from drinking water, agriculture, cleansing processes, appliances, and heating/cooling systems.
• More Complete Filtration – The use of several filters as one system allows for clean drinkable soft water that can be used for a variety of applications and can replace whole house or whole building filtration systems.
Common Commercial or Home Applications of the Green Water Softener System:
• Hot and cold beverage machines – Coffee, Tea, Soda, Juice, etc.
• Cooling Towers
• CIP Systems (Clean-in-Place Systems)
• Industrial Washing Machines
• Car Washes
• Ice Machines
• Pools
• Injection Molding Machines
• Agriculture
• Dishwashers
• Laundry Systems
• Industrial Washing Machines
• Households / For Home
• Restaurants
• Waste Water Treatment Systems
• Final Stage Cleaning Processes
• Whole House Filtration / Whole Building Filtration
The Green Water Softener System has many benefits due to its design and technologically advanced types of media filters. The Green Water Softener System utilizes glass coated polymer resin to break down the hard water molecules into soft water molecules. From there the water travels into an activated carbon filter which will remove chlorine, chloramines, volatile organics, heavy metals, pesticides, and other contaminants while polishing the water to have great taste. The 20-mircon filter will remove many particles from the water that are not removed by the carbon filter to finish off the filtration process. The end result is a clean drinkable soft water with a high ph that is applicable to a much larger range of applications than traditional water softeners. Essentially the Green Water Softener System provides the benefits of water softeners and whole house or whole building filtration systems all in one simple, efficient, and maintenance free system.
Our Green Water Softener systems utilize up-flow filters which do not use electricity or produce waste water making them highly efficient. The media within these filters do not require frequent maintenance or media changes making them much more cost effective, environmentally friendly, and trouble free.
• This green water softener filter (GWSP3 Up-flow Media Filter) and the tank housings comes with a 5 year warranty and the activated media filter has a warranty of 750,000 gallons per square foot of media. The green water softener system also includes a detailed instruction manual for easy installation. We can also install these green water softeners systems in the following areas:
• San Diego County: North County, South County, East County, Coastal. Areas included San Diego, Pacific Beach, La Jolla, Del Mar, Carmel Valley, Rancho Santa Fe, Solana Beach, Cardiff, Encinitas, Leucadia, Carlsbad, Oceanside, Vista, San Marcos, Escondido, Rancho Bernardo, Poway, Carmel Mountain, Rancho Penasquitos, Mira Mesa, Sorrento Valley, Clairemont, Kearny Mesa, Mission Valley, El Cajon, Chula Vista, Bonita, Eastlake, Santee, Tierra Santa, etc.
• Orange County
• Los Angeles / LA
• Riverside County
• San Bernardino County
• Temecula
For more information or pricing on the Green Water Softener System please email our personnel at 4info@waterbusiness.com or call our office at (760) 744-4800. Our technicians and sales representatives will work with you to select the best sized system for your specific application as well answering any questions you may have.
Click Here To Download The Green Water Softener System Brochure